If you enjoy finding new regions on the map of Vietnam while retaining the wild qualities, Phu Yen is the tourist location that is always at the top of that list.
Visitors will find and enjoy beaches, gorgeous bays with blue water, silky sand, and stunning natural scenery along the S-shaped curve of Vietnam's central coastline area. If Nha Trang's coastal city offers a crowded sea space, when you return to Phu Yen, you will be immersed in a serene, quiet sea and enchanting, capturing people's hearts. Threeland Travel will unveil a fantastic new rendezvous here on your journey to Phu Yen!
1. Bai Mon Beach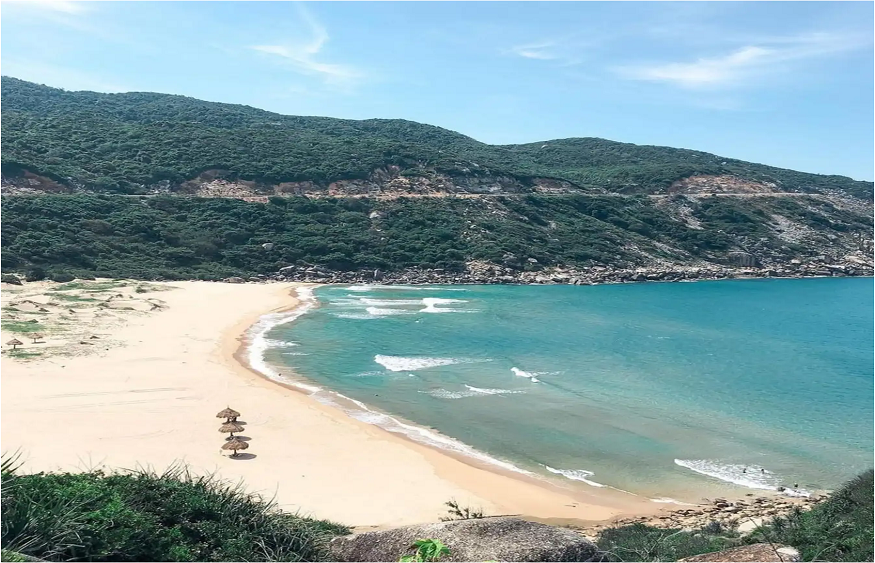 Address: Dong Be village, Hoa Tam commune, Dong Hoa, Tuy Hoa City, Phu Yen
Referring to Phu Yen Tourism is to mention the sea. And Bai Mon is one of the most famous tourist attractions in Phu Yen today. This beach is located between two long mountain edges, forming an isolated, mysterious area about 500 meters long, protected from high winds, and very poetic.
The scenery on Bai Mon beach makes many people admire and praise; the long white sand beach curves along the coastline, the clear water reflects the sky, and all these things combine to create an extremely attractive beauty. In particular, there are not many people living here; only ships are anchored, so the landscape is still pristine in the beginning.
This place is most beautiful at dawn, around 5 a.m., when the first morning light on the S-shaped strip of land begins to shine, and Bai Mon beach in Phu Yen appears more sparkling than ever. The golden rays of the sunshine on the vast sea, reflect the image of the endless sky.
There are two ways to get here. If you come from Tuy Hoa city, then go along National Highway 1A and move about 23 km to the southeast; if you start from Nha Trang city, you also move along National Highway 1A but go to the northeast when approaching. In the middle of Ca Pass, go straight to Phuoc Tan-Bai Nga Road for about 12 km, and you will come to Dai Lanh Cape and Bai Mon Beach.
2. Vung Ro Bay
Address: Hoa Xuan Nam commune, Dong Hoa, Phu Yen
Vung Ro Bay is also a name that is strongly recommended by people who love the sea to anyone new to Phu Yen. This vast bay with its breathtaking views and fresh seafood has captured the eyes and stomachs of many visitors.
Vung Ro Bay is a beautiful and pristine bay in Phu Yen, stretching over an area of about 16.4 km2 and surrounded by three majestic mountain ranges between the sea and sky including Ca Deo (in the north), Da Bia (in the Dong direction), and Hon Ba (in the west), and are protected by Hon Nua island in the south.
Vung Ro Bay has several gorgeous beaches; spending the entire day there is not enough. If you want to go to the most beautiful beach, you may plan a trip to other beaches such as Bai Tran Chau, Bai Lach, Bai Nhan, and so on. The beaches in Vung Ro Bay share characteristics such as a unique wilderness where few people live and tourist activities are limited, a clear blue sea, and numerous great check-in locations.
3. Dai Lanh Lighthouse
Address: Hoa Tam commune, Dong Hoa district, Phu Yen
From Bai Mon, climbing up the mountainside, you will reach the Dai Lanh lighthouse, one of the most famous tourist attractions in Phu Yen Tourism and also the place to welcome the magnificent Vietnamese sunrise. Rarely can anyone see this shocking moment without being captivated and amazed. To reach the lighthouse, you will have to go up a rather steep white staircase, follow the edge of the mountain, and climb all 110 spiral steps. From here, looking down at the vast sea, the wind blows, making me feel more peaceful than ever. On the way, you will be able to see Bai Mon with its cool blue strait and wonderful white sand beach and hear the sound of waves lapping in your ears.
To get to Dai Lanh Lighthouse, you can follow the coastal road of Phu Yen at the foot of Ca Pass and admire the vast, beautiful sea on the roadside. From afar, you will see the Dai Lanh lighthouse standing out in the middle of the mountain space and the immense blue sea.
4. Ganh Ong – Bai Xep
Address: An Chan commune, Tuy An district, Tuy Hoa, Phu Yen
This beach also has two banks surrounded by mountains like Bai Mon. But the special feature here is that the rocky mountains that cover Bai Xep are mysterious black rocks; the black rocks stretch out to the sea and have been eroded by the waves into the shape of very beautiful natural steps.
The beach at Bai Xep is only 500 meters long, but it possesses unique harmonious natural landscapes with iridescent golden sand beside wild rocks, giant black stone capes protruding into the sea, grasslands, and immense casuarina forest.
Only when it became the scene for the hit movie "I see yellow flowers on the green grass", was Bai Xep known to many tourists, so this place has not been exploited for tourism much, the landscape still retains its original wildness.
Bai Xep has the qualities of a magnificent coastline, with a bright golden sand beach that embraces the pristine jade-green ocean. Walk softly into the sea, and the clear, refreshing water will seem as if you were in an ice lake, expelling the heat and so much tension and exhaustion.
To come and admire the beauty of Bai Xep, go straight on Le Duan Street to Tuy An. This beach road is paved with flat asphalt with blue poplars along the two sides of the road, which is extremely beautiful, yet to arrive, and gives you a very cool and relaxed feeling.
5. Mang Lang Ancient Church
Address: An Thach commune, Tuy An district, Phu Yen
Phu Yen Tourism, visitors have the opportunity to see firsthand the unspoiled natural landscapes, which have only been seen through frames before. Visiting famous places in Phu Yen, visitors must go once, such as Ghenh Da Dia, Bai Xep, Lagoon O Loan… and should not miss Mang Lang Church, a church with unique ancient European architecture in Phu Yen.
Mang Lang Ancient Church is one of the oldest churches in Vietnam and the oldest in Phu Yen, with an age of more than 120 years. The church not only has an ancient beauty or is a famous destination for its rich history, but it also has important historical significance. Mang Lang Church in Phu Yen is the first place to keep the first national language book of Vietnam.
This whole building is built in the magnificent Gothic style, unmixed and extremely majestic. Dating from the 19th century, experiencing the wind and dew, the beauty of the church is made even more ancient and mysterious by the walls covered with moss and gray, artistically.
6. Hon Yen
Address: Nhon Hoi village, Tuy An district, Phu Yen
Hon Yen is a natural area that has seen little development. As a result, the environment and plants here are diversified and flourish spontaneously, allowing tourists to marvel at them.
The Phu Yen seascape cluster surrounds Hon Yen. In addition to Hon Chon being nearby, the scene here is separated into three halves. The middle section is a stony mountain range that reaches out to sea at Hon Yen.
When you arrive here, you will be surprised by the crowded scene, crowded with boats docking in the early morning with fresh sea fish. In addition, you can also see the rocks surrounded by moss and the paved rocky beach connecting from the sand to the foot of the wave.
The seawater here is jade green, sweet, and pure. Hon Yen is home to unique seafood such as anchovies, squid, crabs, snails, etc. In cages located along the coast, people often stock high-value lobsters.
During low-tide days, a route linking Hon Hon and Hon Yen will be uncovered. You will be able to wander the water, observing the beautiful coral reefs combined with the dazzling seascape.
7. Thanh Luong Pagoda
Address: An Chan commune, Tuy An district, Phu Yen
Another attractive place to visit in Phu Yen Travel with another spiritual direction is Thanh Luong Pagoda, a sacred place that pilgrims will enjoy very much. The pagoda is designed quite simply, with the typically curved roofs of ancient Vietnamese temples. The biggest highlight of the whole architecture is probably the building materials, which are completely made of coral and natural coconut shells.
Inside the large 5000m2 campus, you can also see a lot of beautiful scenery to check in: a giant Buddha statue in a shallow lake, in front of the white coral entrance gate, sitting on a stone bridge over a rock dummy, etc.
8. Van Hoa Plateau
Address: Son Dinh, Son Long, Son Xuan, Son Hoa district and Tuy An district, Phu Yen
Because the Van Hoa Plateau is 400 meters above sea level, it enjoys a very chilly climate. Because it is surrounded by massive trees, the air is clean and pleasant. When you visit Van Hoa, you will discover undulating mountains, clean streams, hydroelectric dams with powerful currents, and a variety of other unusual features. The entire space appears to be composed of only two colors: the calm blue of the sky and the vast green of the trees. This lyrical scenario is straight out of a film. The Van Hoa plateau, with its cool air, glorious sunshine, and stunning vistas, has swiftly developed a new resort paradise for visitors traveling to Phu Yen.
9. Nghinh Phong Tower – New Symbol of Phu Yen Tourism
Address: Binh Kien Commune, Tuy Hoa City, Phu Yen
Nghinh Phong Tower is an architectural work located in Tuy Hoa City, Phu Yen Province, in Nghinh Phong Square. The tower is constructed of cylindrical stone blocks stacked on top of one another and is adorned with a variety of complex and distinctive designs.
Nghinh Phong Tower belongs to the coastal public space project at the intersection of Nguyen Huu Tho and Doc Lap Street (Tuy Hoa City). In addition to the twin towers, the Nghinh Phong Square area also has other items such as a protection embankment system, a park, a granite promenade, etc., with a total area of more than 7,000 m2.
The Nghinh Phong Tower are over 25 meters tall in Tuy Hoa City, Phu Yen Province. The skyscraper is designed like Da Dia Reef, with a reinforced concrete core and granite outside. Inspired by the fairy tale of Vietnam – "Dragons and Fairies". Each tower has 50 stone blocks placed on top of each other, representing "hundreds of eggs" that must follow their parents up the forest to the sea. A slot between the two towers is adorned with representations of Phu Yen.
The special thing about Nghinh Phong Tower is that the space between the two towers is only big enough for two people to stand, and every time the wind blows through the gap, it will create a sound like music from nature. At night, the place is illuminated with Bobine Tesia technology, 3D mapping, and high-intensity lasers to create a colorful light show.
Phu Yen locals are highly fond of and proud of Nghinh Phong Tower, viewing it as a symbol of their community. This work is adored by tourists from all over the world, who regard it as a symbol encapsulating the nation's cultural values, thanks to the thoughtful investment of residents.
10. Ghenh Da Dia – Amazing Rock Masterpiece in Vietnam
Address: An Ninh Dong commune, Tuy An district, Phu Yen province
Ghenh Da Dia (Da Dia Reef) is a tourist destination in Phu Yen. This place is about 40 km from Tuy Hoa city, impressive with the black rocks arranged in an orderly manner by nature on the clear blue coast. Looking from afar, it looks very much like a giant plate.
Ghenh Da Dia is one of the most beautiful disc rapids in the world, but this precious natural resource is still unknown to many people. This is a destination that impresses visitors when they come to this idyllic and peaceful land. The scenery here has always won many compliments because of the strange shapes of the rocks. It was this that created deliberate chaos in nature.
The beauty of Da Dia Reef is a fact that no words can describe. If visitors want to experience a new feeling while enjoying the beauty of the sea view and the scent of the sea breeze blowing in their faces, this is the most ideal place. The main highlight here is the stack of cylindrical stone blocks that looks like a giant honeycomb reaching out to the sea. In particular, there is a time when thousands of stone slabs shine with sparkling colors in a sea paradise full of white waves.
The type of rock that makes up Ghenh Da Dia is basalt, which was formed over 200 million years ago. To this day, many experts have said that when the volcano on the Van Hoa plateau is active, the erupting lava flows meet with cold water, causing the lava blocks to crack, forming extremely beautiful rocks. Today, when you come to Ghenh Da Dia, you will admire many stone columns of various shapes, from hexagons to circles to squares, stacked on top of each other to form a solid block.
Image Source:imagekit.io
Phu Yen is presently a popular tourist site. This location has the smooth beauty of the mountains and highlands, as well as the tranquil and lyrical beauty of the sea. Phu Yen Tourism is also noteworthy for its spiritual works, distinctive and outstanding architecture, and delectable dishes that make many hearts skip a beat. If you have been planning a tour to Phu Yen, contact Threeland Travel right now to get the perfect tour to Vietnam for you!